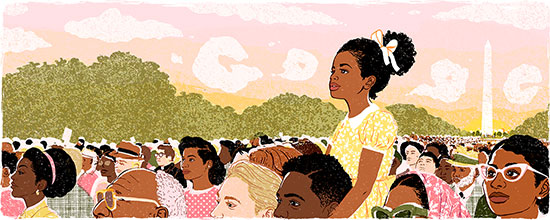 Artist Chapman is new to children's books, 
but you may have seen his MLK Jr Day Google Doodle! 
Despite his early literacy and his love of language and learning, the racial prejudice he faced at school forced him to drop out at age fifteen. Each morning thereafter, he walked to the Carnegie Library where he educated himself on a wide variety of subjects—from science to cooking, from woodworking to poetry, from history to antique cars. Later, he wrote poetry until a friend convinced him to try a play. And then … well, you can read the book to find out what happened next!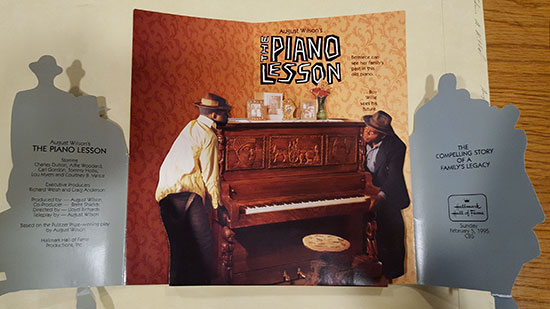 Inside program cover for August Wilson's The Piano Lesson.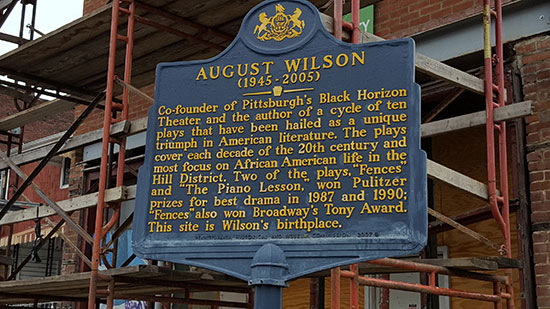 Pennsylvania State Marker at August Wilson's childhood home on Bedford Avenue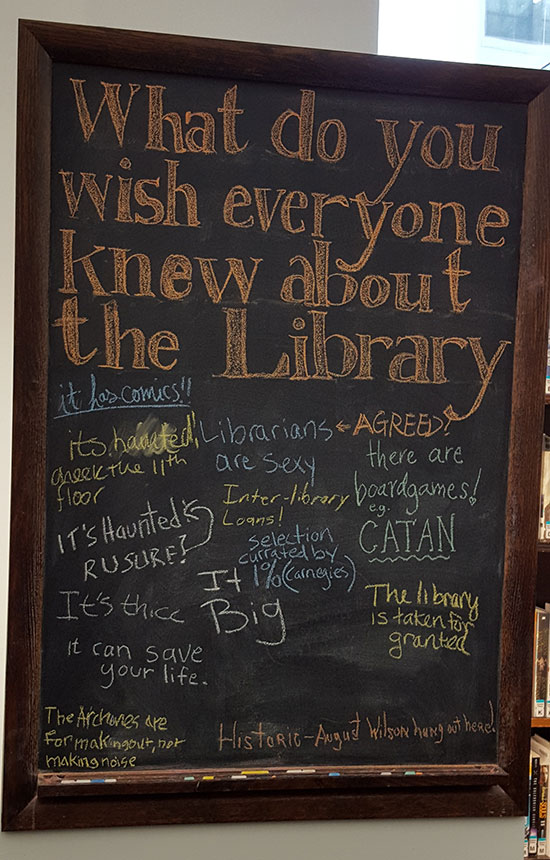 Chalkboard in Carnegie Library of Pittsburgh. Note the bottom right corner.
To read more about the book, the illustrator and to download a discussion guide (available in the fall), check back to this page on my author website. We'll be posting interviews, reviews, and more in the coming months!
Want to get a signed copy of Feed Your Mind? Jen will be at USBBY in Austin, Texas, October 25-27th. Jen and Cannaday will be at NCTE Baltimore, November  21-24th, with Abrams Books for Young Readers and the National Writing Project. Check Jen's events page for more updates through the summer and fall.
If you will be at ALA in Washington, DC this month, stop by the Abrams booth and get a free Feed Your Mind poster before they are all gone!
Jerry Spinelli and How to Make Friends with Failure
Most of you know that Jerry Spinelli and his wife Eileen Spinelli have been friends and mentors to me for almost as long as I've been writing. Jerry connected me with my first editor at Knopf, Joan Slattery, and Eileen showed me how to turn my poetry for adults into picture book texts. They both read my earliest novel-in-verse manuscripts and cheered my first publications with outsized enthusiasm. 

You can just imagine, then, my delight when Gettysburg College (Jerry is a 1963 alum, and I am a 1982 alum) chose Jerry to be this year's commencement speaker. And you can imagine, too, how WONDERFUL he was!! Here is a video of his speech, (begins at minute 5:00), given from the portico of Pennsylvania Hall (which served as a Civil War Hospital in 1863) on May 19th, and in which Failure is put in a healthy perspective.   

And did you know?. . . Star Girl, the novel by Jerry Spinelli, has been made into a film! Starring Grace Van der Waal, and filmed in New Mexico, it will air on the Disney Streaming channel later this year.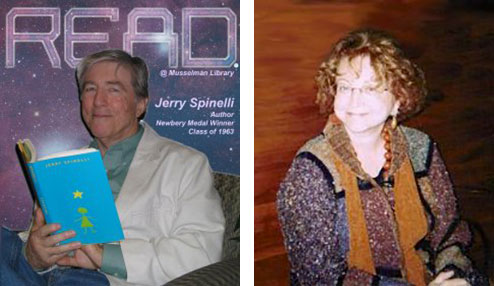 Jerry Spinelli and Eileen Spinelli, authors and mentors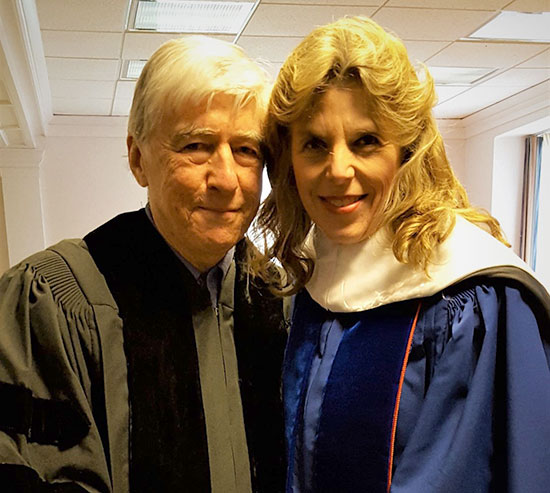 Jerry and Jen get ready for Gettysburg College commencement, June 2019.
Hot Summer Reading
| | |
| --- | --- |
| | |
| | |
| | Summer reading is great! |
Summer means longer days and (hopefully) a bit more free time to enjoy good books. But how to choose which books to read … THAT is the question! Over at the Nerdy Book Club, fifth grade teacher Colby Sharp offers his list.

If you're like me, Summer is also a time to catch up on what's new in adult fiction and non-fiction. Ann Patchett's Musing, the newsletter/ blog from her wonderful Nashville book store often has great lists. Here are her staff's suggestions for summer.

ALA award winners from past years are always worth revisiting in the summer months. Click here for a wise and wonderful conversation between Newbery Medalist Katherine Applegate and Newbery Honoree Kimberly Brubaker Bradley, also courtesy of Parnassus.
Contest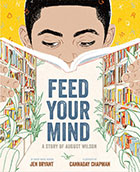 Okay, let's not keep you any longer from that summer reading! Answer the following question correctly and you will be entered to win a signed copy of the forthcoming Feed Your Mind—A Story of August Wilson (due out in November): 

Playwright August Wilson wrote The Pittsburgh Cycle—a series of ten plays, each set in a different decade—that follows the experiences of African Americans throughout the 20th century. Name TWO of these plays (hint: one was made into a major film starring Denzel Washington and Viola Davis.)

Send your answer, your name, email address and your mailing address to jen@jenbryant.com.

Contest ends August 1st.
Thanks for reading this issue of Flying Tidings!

Until next time, keep in touch: