SPRING 2014
Welcome to the Spring issue of my occasional newsletter, Flying Tidings. Here's what's happening with my books, events, contests, and more ... a little something for everyone.
Finding Just the Right Words
We are … delighted, overjoyed, ecstatic, aghast, over-the-moon, dancing-a-jig, thrilled beyond words …. and so very VERY thankful to the 2015 ALA/ALSC committees for their recognition of The Right Word as the Robert F. Sibert Medal winner and a Caldecott Honor book. And BIG congrats to all of the other honorees for their excellent work!
As this newsletter goes out, I am selecting "just the right words" for my part of our Sibert Acceptance Speech which will be given at the ALA Annual Conference in San Francisco on June 25-30, 2015.

We hope to talk with some of you there. We'll be signing books at the Eerdmans booth in the exhibit hall. Please check the exhibit schedule for dates and times.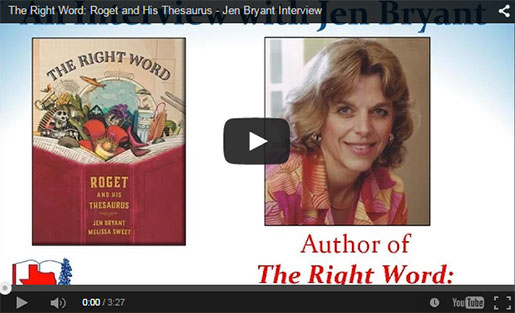 The fine state of Texas, upon naming The Right Word to its Bluebonnet Master List for 2015-16, asked Melissa and me to create short video interviews about our making of the book. Students provided the questions, and we did our best to answer them. Welcome to our studios! 
Orbis Pictus Award
Melissa and I are thrilled (enchanted, fulfilled, joyous, pleasantly surprised) that The Right Word was named as an Honor Book by the National Council of Teachers of English (NCTE) Orbis Pictus Committee. Thank you! 

SCBWI Golden Kite Awards
Melissa Sweet received the 2015 Golden Kite Award for Picture Book Illustration for The Right Word. The Golden Kite is the only award selected and judged by other authors and illustrators, a recognition of excellence in their field.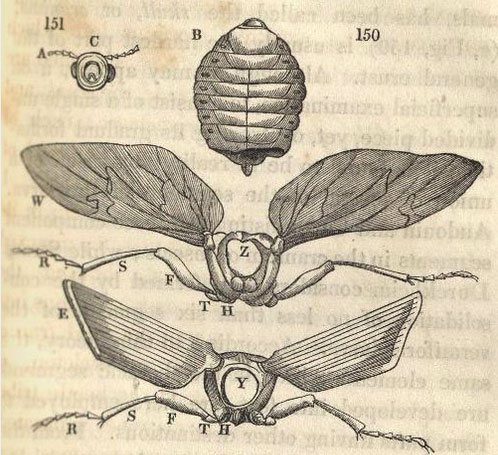 Peter Mark Roget was the author of other books as well as his Thesaurus. Johanna Goldberg at The New York Academy of Medicine shares some of his other works with us, including Animal and Vegetable Physiology, in which Roget tried to "bring order to the field of comparative anatomy." It was 600 pages long! 
A Splash of Red
Good things continue to happen for this biography of Horace Pippin, illustrated by Melissa Sweet. Thanks to you, dear readers, librarians, educators, for finding so much to like in this book.

For classroom use, there's a website specifically for A Splash of Red.
STEAMing Along
Gratified! and Full STEAM (Science, Technology, Engineering, Arts and Math) ahead!! That's how we feel about A Splash of Red being on the ALSC (Association for Library Services to Children) 

Building STEAM with Dia" list for grades 3-5.

How will you celebrate El día de los niños, El día de los libros on April 30th?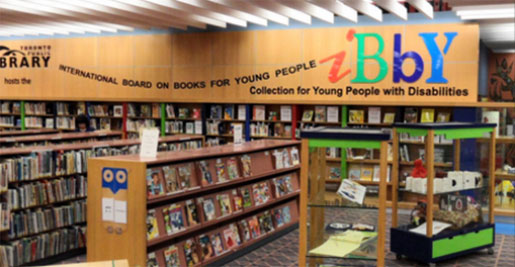 IBBY
Those outstanding educators at IBBY (the International Board of Books for Young People) selected A Splash of Red for their biennial list of Outstanding Books for Young People with Disabilities. We're honored and we think Horace would be, too.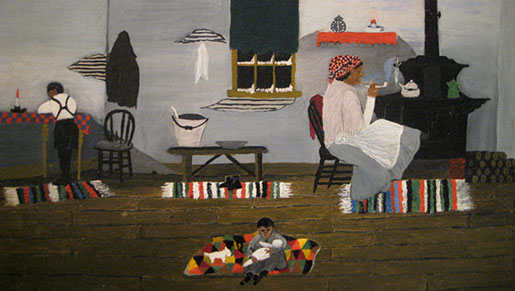 Horace Pippin at the Museum
As you plan for warm-weather excursions, mark your calendars now for what is sure to be a fun, family-friendly, history-making Pippin Original Art Exhibit at the Brandywine River Museum (April 25-July 19). I will be there on Sunday, May 3rd, to talk about A Splash of Red, to answer questions and to sign books. Will I see you there? (Painting: Horace Pippin, "Interior," on loan from the National Gallery of Art in Washington, DC.)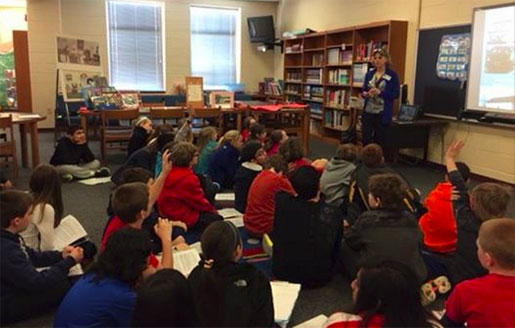 Out and About
I love quiet days at my desk. But I also enjoy getting away now and then to visit with eager readers! In January, I had a marvelous visit to Pocopson Elementary School, near Horace Pippin's hometown of West Chester, PA.
Upcoming Schedule
The months ahead include the San Antonio Book Festival, the Texas Library Association Conference, the West Chester University Literacy Conference, The Brandywine River Museum exhibit. Here's where I'll be. I hope you'll be there, too!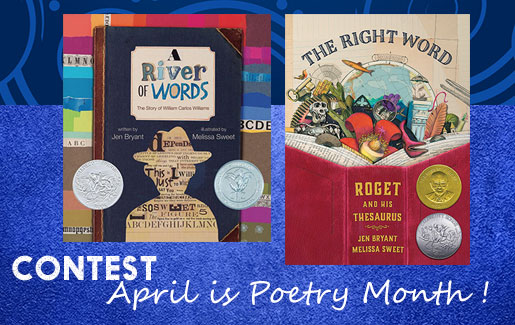 April is National Poetry Month!
And here's a contest to help celebrate it.
Here are 7 US cities/towns. Name the poet who's most closely associated with each one and send your reply to me.
Contest closes May 1st. During the first week of May, one winner will be chosen from all correct entries.
Winner receives a hardcover of A River of Words and The Right Word, each signed by Melissa Sweet and me.
Amherst, MA
St. Louis, MO
Hartford, CT
Bogalusa, LA
Carmel/ Big Sur, CA
San Antonio, TX
Garland, NE

Good Luck!
Wishing you all a fragrant and flower-filled Spring, replete with new discoveries and new words to savor. Until next time, keep in touch on my blog and Facebook pages.