JUNE 2013
A SPLASH OF RED—a six-month scrapbook
At six months, your baby is sitting up, rolling over, babbling. You take photos, add to the scrapbook, share videos on Facebook. Each new book is like that, too, and at six months, here's what "Horace" has done:
Junior Library Guild Selection
FOUR starred reviews: Booklist, Kirkus Reviews, Publishers Weekly, School Library Journal
Gold Award, non-fiction category, 2013 Spring Parents' Choice Awards
Bank Street College Children's Book Committee "April Pick"
Amazon.com "Best of the Month Pick," January 2013
Published January 8, 2013, it sold out its first printing in six weeks!

Featured in the Philadelphia Enquirer, New York Times Book Review, and on WHYY Public Radio
Of course we're proud of, and grateful for, all of these awards and designations. But just as much, we value the comments and cheers we're receiving from kids and adults across the U.S. who are reading and sharing Horace's story.
| | |
| --- | --- |
| | |
| | |
| | I'm a Phillies fan! |
| | |
CONTESTS, PRIZES, GIVEAWAYS
I'm a Phillies fan, and if you follow baseball, then you already know there's been a noticeable lack of "Ws" on our team's scoring card this year. So—while we wait for our boys in red to rally (this sentence may be my first foray into the fantasy genre), I've decided to let YOU have a good chance to WIN. Win signed book copies? Yes! Win baskets filled with signed books and other thematic items like posters, pirate paraphernalia, Beatles CD's, art supplies… ? Absolutely!
" …Tell us how we can win, Jen!" 
It's easy, no-sweat. Do any of the following once, and you'll be entered to win once. Do any of the following 2, 3 or 4 (or more!) times, and you'll increase your chances of winning:
| | | |
| --- | --- | --- |
| | | Like my Facebook  page (if you haven't already done so). |
| | | |
| | | Leave a comment on any of my Facebook posts, today through Aug 31. |
| | | |
| | | Leave a comment on my blog. |
| | | |
| | | Get a friend to sign up for my Flying Tidings Newsletter. |
| | | |
| | | [for educators &  librarians] Send me a photo of you and your class or reading/book group with any of my books and a description of how you used it with them.  |
| | | |
Bottom line: the more you subscribe, follow, or comment on any of my social networking pages: website, blog, author newsletter, or my Facebook page, the more chances you have to win.
Keep checking my Facebook page and my blog for photos and descriptions of the prize baskets and giveaways being offered each month! Here's what you can win in July: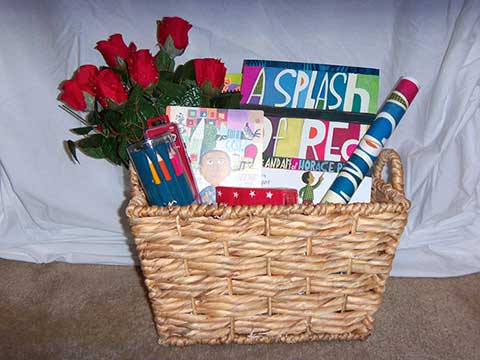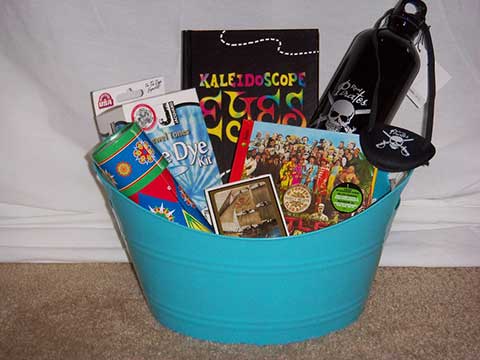 HOW SWEET IT IS
OK, she'll get me for this … but if you know Melissa, you also know that her art is as Sweet as any other art in the children's book market. In 2009, her illustrations for A River of Words: The Story of William Carlos Williams, won her a Caldecott Honor. 
This year at the ALA annual conference in Chicago, they're celebrating 75 years of the Caldecott, and Melissa will be there!
As Abe Lincoln would say, "It is altogether fitting and proper that we should do this." If you're going to ALA or know anyone who is, stop by the exhibits, meet Melissa, and have her sign a copy of A River of Words,  or A Splash of Red for you!  
FIND SOME TIME TO READ
That's all for this issue … Here's to a wonderful, book filled-summer. Keep in touch and  check back often to see if you've won any of our great "no sweat" summer giveaways. 
Jen Bryant